Eflite Cherokee 1.3M BNF Basic
Product Details
In The Box
(1) Cherokee 1.3m BNF Basic
(1) AR631 DSMX 6-Channel AS3X & SAFE Receiver
(6) 9 Gram Servo
(1) 50A Brushless ESC
(1) 1000Kv Brushless Outrunner
(1) User Manual
Needed to Complete
Full-range, 6+ Channel DSMX®/DSM2® transmitter
2200–3200mAh 3–4S LiPo flight battery
Compatible LiPo charger
Features
A scale replica of a modern general-aviation classic
Incredibly smooth flight performance making it the perfect choice for a first low-wing or scale model
High-power 3S and 4S compatible brushless motor and 50-amp ESC
Spektrum™ 6-channel receiver with industry-leading DSMX® technology
Unmatched stability and precision of AS3X® technology for smoother flight performance
Easy to fly with optional-use SAFE® Select flight envelope protection
Abundant scale detail including panel lines, rivets, corrugated control surfaces, pilot figure and more
Functional shock-absorbing nose strut and large wheels for operation from a variety of surfaces
Factory-installed LED navigation lights, strobes, beacon and landing lights for added realism
Operational flaps for shorter take offs and landings plus improved slow-flight performance
Two-piece plug-in wing panels featuring a convenient hands-free servo connection system for the servos and lights
Unique and scale full-flying horizontal stabilator
Extremely large top hatch for easy access to the battery mounting area and electronics
Lightweight and durable carbon-fiber reinforced EPO construction
No glue required for assembly–can be ready to fly in less time than it takes to charge a battery
Overview
The revolutionary PA-28 Cherokee began rolling off a brand-new Vero Beach, Florida assembly line in the early 1960s. Its simple design and smooth handling made it a popular light aircraft for successful flight training and personal use. Since then, over 32,000 Cherokees and variants have been built making it the fourth-most-produced airplane in the world. The E-flite® Cherokee 1.3m scale model is a tribute to the general aviation classic that features realistic scale details including functional navigation lights, flaps, a full-flying stabilator and more, plus 3S and 4S LiPo compatibility and incredible handling any RC pilot can appreciate.
The E-flite® Cherokee 1.3m scale model celebrates the classic design of the legendary full-scale PA-28 with an accurate outline, a long list of scale details, modern-day convenience features, plus fantastic power and flight performance that makes flying fun. An abundance of scale details including panel lines, rivets, corrugated control surfaces, a pilot figure and more highlight the authentic appearance, while functional features including factory-installed LED lights, a shock-absorbing nose strut and large wheels add to the flight experience. The plug-in wing panels are equipped with a convenient hands-free servo connection system and include operational slotted flaps for shorter take offs and landings, plus improved slow-flight handling. No glue is required for assembly of the lightweight, carbon-fiber reinforced EPO airframe so you can be flying in less time than it takes to charge a battery. An extremely large top hatch offers easy access to the electronics and the battery mounting area with plenty of space to fit a 3S or 4S 2200–3200mAh battery, while the high-power brushless motor and 50-amp ESC deliver better-than-scale power. It all adds up to a scale marvel that delivers incredible handling and fantastic flight performance for shooting smooth touch and goes, rock-solid low and high speed cruising, and even for performing aerobatics—all in a single model that you'll be proud to own.
Video Overview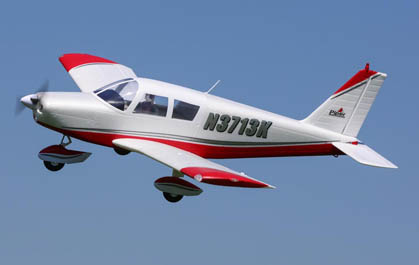 Scale Detail
The Cherokee 1.3m is designed to intricately replicate the full-scale aircraft with a long list of scale details. Molded in panel lines, rivets, corrugated control surfaces and other details will impress a wide range of sport and scale modelers. Clear cabin windows, seatbacks, a pilot figure and instrument panel add to the authentic appearance that's complemented by a classic yet modern trim scheme found on John Bradley's full-scale PA-28 (N3713K).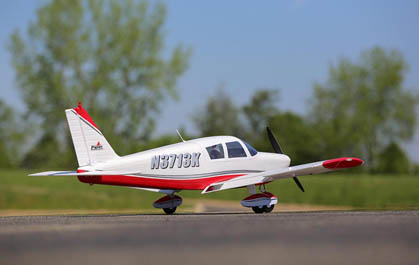 Functional Authenticity
An accurate scale outline captures the iconic shape of the Cherokee including the constant chord wing that's equipped with operational slotted flaps to deliver improved low-speed handling, shorter take offs and slower landings. The unique full-flying stabilator (stabilizer/elevator) offers authentic pitch control while the functional shock-absorbing nose strut and large wheels make it possible to fly from a wide variety of surfaces. And factory-installed LED lighting, including navigation lights, strobes on the wing tips, a tail beacon and landing lights, add to the realism and authenticity.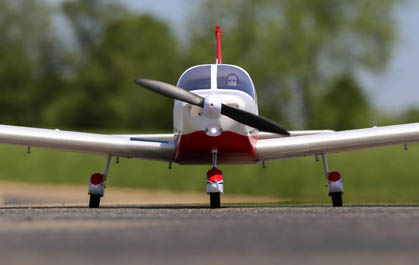 3S and 4S Compatibility
The factory-installed high-power brushless outrunner motor and 50-amp ESC deliver better-than-scale power when used with a 3S 2200–3200mAh LiPo battery. Or you can install a 4S battery for added power and performance—no modifications or upgrades required.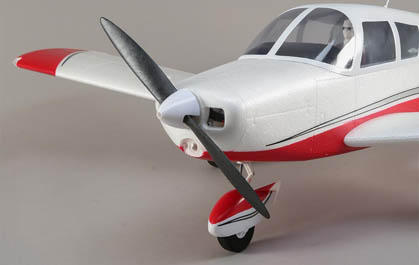 Durable Design
Construction with carbon-fiber reinforced, molded EPO material makes it possible to replicate complex surface detail in a lightweight yet durable airframe. The end result is an outstanding scale appearance that's easy to maintain while delivering the best flight experience possible.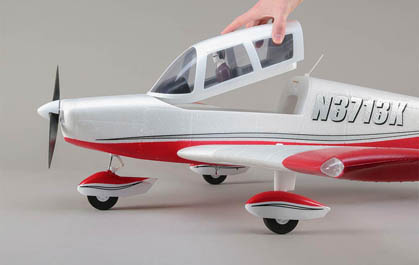 Easy Assembly
The Cherokee 1.3m is engineered so that no glue is required to complete final assembly, and so you can have it flying in less time than it takes to charge a battery. It's also engineered for easy transport and storage with plug-in wings that feature a convenient hands-free servo and LED connection system so you don't need to fumble with wires or connectors.

Bind-N-Fly Completion Level Advantage
This Bind-N-Fly® Basic model is equipped with an AS3X® (Artificial Stabilization–3-aXis) receiver that works behind the scenes to smooth out the effects of wind and turbulence. The result is a sense of stability and precision that makes you feel like you're flying a larger and expertly tuned aircraft.
If this is your first low-wing or scale airplane, or you want an extra margin of safety while familiarizing yourself with the airplane, you can enable the optional-use SAFE® Select technology built into the receiver. No programming is required. Simply change up the binding sequence as directed in the manual.
With SAFE Select features enabled, you get:
Pitch and Bank Angle Limits
These envelope limits keep the airplane from rolling or pitching upside down. They also prevent excessive climb or dive angles.
Automatic Self-Leveling
The airplane instantly returns to and holds level flight when the sticks are released and in the center position.
Easy Switch Assignment-No Programming Required
The simple procedure for assigning a transmitter switch to turn SAFE Select features on and off doesn't require any programming and takes just a few seconds.
If you don't want to enable the SAFE Select features, just bind the receiver normally and it will function like a standard AS3X receiver.
| | |
| --- | --- |
| Approximate Assembly Time | Less than 1 hour |
| Battery | Sold Separately |
| CG (Center of Gravity) | 4.72" (120mm) back from the leading edge of wing at the fuselage |
| Charger | Sold Separately |
| Completion Level | Bind-N-Fly Basic |
| Flaps | Yes |
| Power Type | Electric |
| Landing Gear | Yes |
| Material | Foam |
| Minimum Required Radio | 6+ channel transmitter |
| Motor Size | 10 BL Outrunner, 1000Kv |
| Motor Type | Brushless |
| Product Length | 41" (1041 mm) |
| Recommended Motor Battery | 2200mAh 3S LiPo with EC3 or IC3 connector |
| Servos | Included |
| Speed Control | Included |
| Trim Scheme Colors | Silver/Red/White |
| Wing Area | 472.0 sq in (30.4 sq Dm) |
| Wingspan | 51.5" (1308 mm) |