DSMX Remote Receiver by Spekrum (Replaces SPM9645)
ey Features
Case design offers better strain relief on antenna lead
DSMX with DSM2 Backward compatibility*
22ms and 11ms Compatible
Upgrade for any Spektrum receiver with available remote receiver ports
Great addition to AR636, AR7350, AR9350, Telemetry Receivers and PowerSafe receivers
Includes 24 inch extension
Repositionable Antenna
This antenna design allows for easy repositioning with the option to exit the case from the side or top. It also offers added strain relief to the antenna wire, and is optimized to fit into the tightest of Remote control aircraft.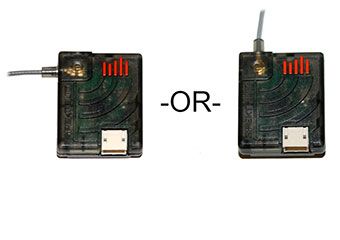 Overview
The next generation of Spektrum remote receivers are here with the SPM9745 and SPM9746 Receivers. Featuring a user friendly antenna setup that allows for the antenna to be placed in 2 positions, making installation into those tight projects easier than ever. Fully compatible with DSMX and DSM2 Transmitters*. Use these to add more receiving points on any Spektrum receiver that has 1 or more Remote receiver ports.
The remote receiver includes one 24-inch extension; however, various lengths of receiver extensions can be purchased allowing various placement options for mounting purposes. Additional remote receiver extensions are available in 6", 9", 12", 24" and 36" lengths.
*DSMX Remote Receivers must be used with a DSMX Main Receiver.